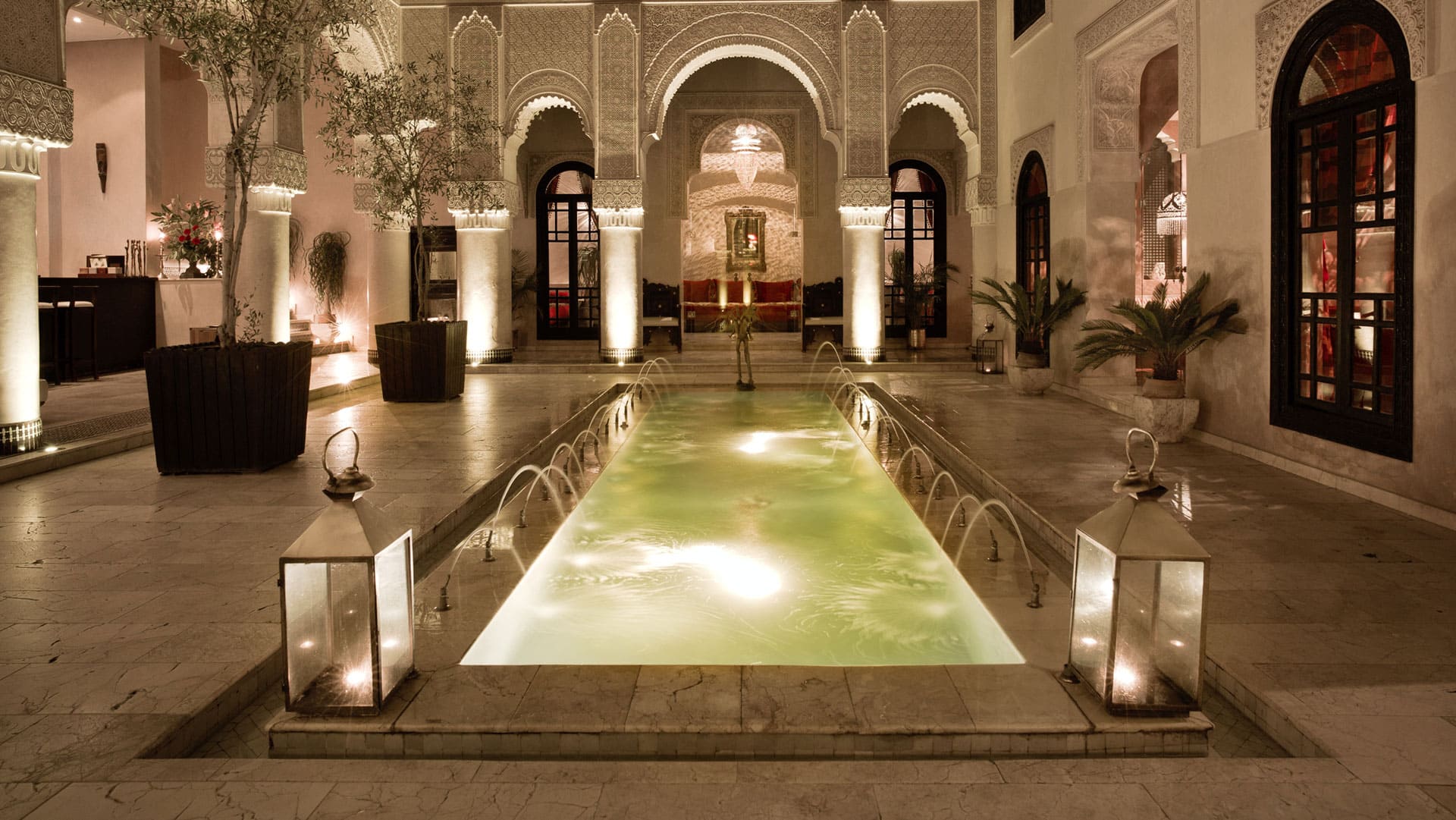 Best Riads in Fes
First of all, you're looking for a real Moroccan experience during your stay in Fes, a luxurious Riads in Fes is definitely your choice.  A Riad is a glamorous guesthouse or palace. Which walls are adorned with tadelakt plaster and zellige tiles, and has an  Andalusian-style courtyard with a fascinating centered fountain decorated with  amazing Moroccan Tiles, representing the charm and authenticity of Fes the old city.
This is our  list of the must-visit Best Riads in Fes that are equally fantastic:
List of the Best Riads in Fes
Riad Braya:
Located in one of the most beautiful neighborhoods of the old Medina of Fez, Riad Braya will take you back in history where time seems to have frozen through the centuries.
The spectacular Riad has multiple deluxe rooms and royal suites with the most Majestic Moroccan architecture offering the most panoramic views on the narrow streets of the old Medina.
Riad El Amine:
One of the most excellent and authentic Guesthouses in Fes just in the entry of The Old Medina. Riad El Amine is housed in a beautiful restored building with traditional decoration.
The lovely Riad has the most elegant rooms, luxurious suites besides spectacular centered Moroccan tiled pool with  reasonable prices.
In the heart of Fes old Medina,  a simple door hides an amazing and beautifully designed palace. Each room and suite is individually and richly decorated with hand-carved doorways and hand-painted doors and shutters.
The food in Riad Gzira is certainly one of a kind experience. Royal breakfasts, traditional Tagines, crispy Pastillas, and colorful Couscous.
Riad Myra:
A fabulous old wonder between the narrow alleyways of the Medina, Riad Myra with its historical rooms, majestic suites and luxurious Moroccan star-shaped Fountain would certainly make you stay in Morocco a unique one.
The luxurious Riad offers airy rooms with ornate tiles and flat-screen TVs, safes and minibars; and sitting areas with the most elegant wood ceilings.
Palais Sheherazade:
Palais Sheherazade is a 19th-century huge palace and a former Vizir residence. With a grand patio, open to the sky, embodies the ages-old traditional decoration that represents the essence of Morocco.
Your Stay in Palais Sheherazade will certainly get you back in history witnessing the thousand-year-old techniques of sculpted and painted wood,also multicolored zelliges and exquisitely carved plasterwork together with light fittings made from chiseled copper.
Riad Ouliya:
A traditional Riad, quiet also sophisticated, the Dar  holds the most mesmerizing  architecture and beautiful Open courtyards with lavish garden.
The staff of Riad Ouliya are also  amazingly kind, available to make the most comfort and luxury of your vacation.
Finally.These Best Riads in Fes offer an authentic, affordable taste of the country  offering visitors a chance to stay in an authentic Moroccan space.