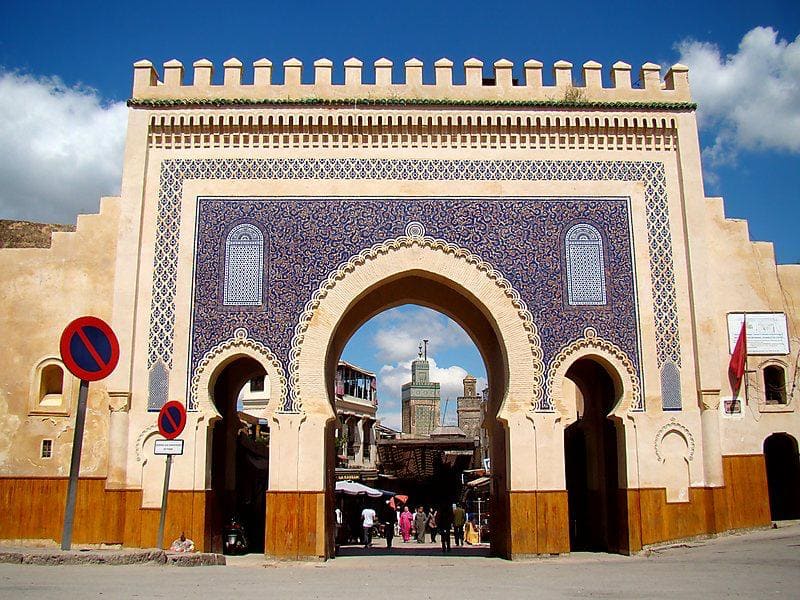 A Discovery Tour Around Boujloud's Gate in Fez
   Luxury Fez Tours Agency is pleased to present to you one of the most popular gates in Morocco, exactly in Fez the spiritual and scientific city of the country, Boujloud Gate.
Discover The Boujloud Gate in Fez
   Bab Boujloud was built in the city of Fez in the twelfth century, near the Kasbah of Boujloud.  It consists of 3 gates, the large gate in the middle of two small ones in perfect harmony.  In its decoration, it relied on ceramics, the blue ceramic, Fez city's color, and the green color of Islam.  The largest restoration to the gate was in 1912.
   Bab Boujloud or Boujloud's gate is located between the Boujloud neighborhood, where the Bouanania School and The New Fez, Moulay Idriss High School, the gardens of Jnan-Sbil, and the Royal Palace take place.
   The gate is considered as the biggest tourist gathering point in the ancient city of Fez.  The visitor discovers Fassi cooking through the restaurants located at the entrance to the old city, the markets, and the style of the old architecture.
   Bab Boujloud is one of the most important gates of the fence surrounding the city of Fez in Fez el-Bali, in an Andalusian architectural style.